Miembros de la familia en Tristan Da Cunha,
según censo publicado en el libro de R.A. Rogers. The Lonely Island. Morehouse Publishing Co., Milwaukee, 1927. [Published in the UK by G. Allen & Unwin, London, 1926.]

Mr. John Baptist Lavarello
Mrs. María
Laurie Lavarello
Cissie Lavarello
Mr. Robert Lavarello
Mrs. Mabel
Elden Lavarello
Olive Lavarello
Mr. William Lavarello
Mrs. Violet Glass
---
In the "PETITION, From the Inhabitants of Tristan da Cunha respecting Letter and Parcel Mails to the Island to The Rt. Hon. The Secretary of State for the Colonies", dated at 23rd March, 1925; there are the signatures from
Mr. R. F. Lavarello
Mr. William Lavarello
Mr. Percy Lavarello
Mr. John Lavarello
Mr. Gaetano Lavarello
---
Mr. John Baptist Lavarello
Mrs. Margaret Lavarello
---
February 2005 Wedding
Simon Glass and Natasha Green were married in St Mary's Church on 17th February 2005. They are photographed left with Maid of Honour Vanessa Lavarello and Bridesmaids Kirsty, Sasha and Rachel Green, Nicole Glass, Natalie Swain and Jade Repetto. Simon's brother Trevor was Best Man.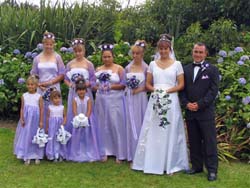 Nigel Lavarello of Tristan's Public Works - Mechanical - Department (No photo)
The Camogli Hospital
Camogli Hospital, named after the home town of 1892 Italian settlers Andrea Repetto & Gaetano Lavarello, was built on an exposed site at the west end of the Settlement near Hottentot Gulch in 1971.It replaced the original 'Station Hospital' in temporary buildings erected in 1942 when Tristan was the home ofthe HMS Atlantic Isle naval station, with a resident doctor (Surgeon Lieutenant Commander Woolley was medical officer-in-charge) for the first time in the island's history. Prior to 1942 Tristan had no specialist medical services, relying on self-help and any expertise on passing ships. This 1983 photograph shows boarded up windows in the doctor's bungalow after recent gale damage. The hospital was severely damaged by the 2001 hurricane.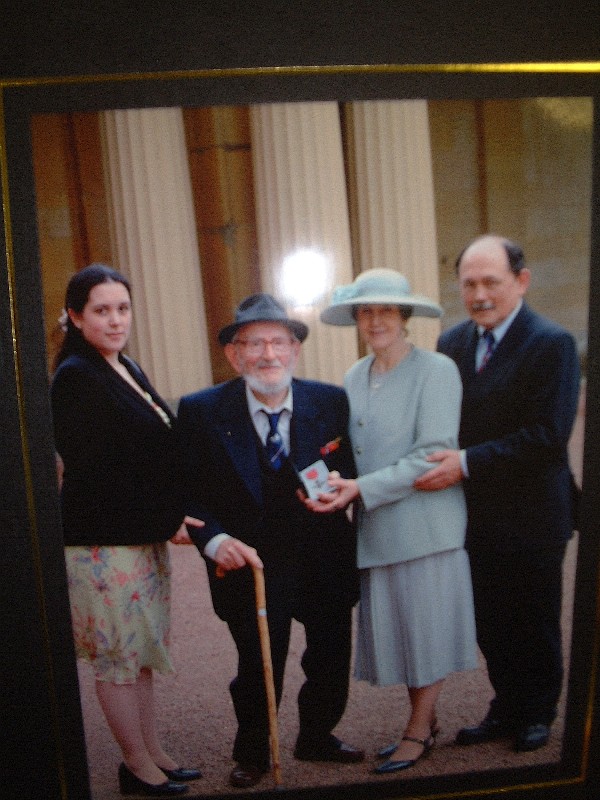 November 2005 Wedding
Adrian and Samantha Swain were married in St Mary's Church on 12 th November. The photograph taken on the Residency lawn shows, on the back row : Anita Repetto, Poppy Lavarello, Adrian & Samantha Swain, Amanda Swain, Best Man John Lavarello, Emma Rogers, Paula & Nathan Swain and in the front : Leo Glass, Leanne Swain, Lynette Green, Rhyanna Swain & Natalie Swain.
September 2005 Tristan Wedding

Photographed above are left to right :
Andrew Green, Klaus Leitner,
Dilys Green, Marko Leitner, Mariah Leitner, Ian Lavarello (Head of Post and Telecommunications Department) and Rosie Leitner
Pensioner Agnes Lavarello advises son Nigel on how to achieve a short baaaack and sides!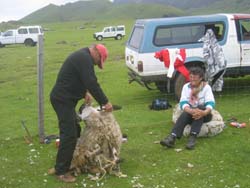 Pensioner Gilbert Lavarello (75) supervises as H'Admin
tries his hand at shearing!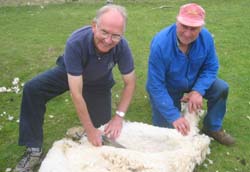 Lorna Lavarello-Smith (no photo neither data)
Karen Lavarello-Schreier (no photo neither data)